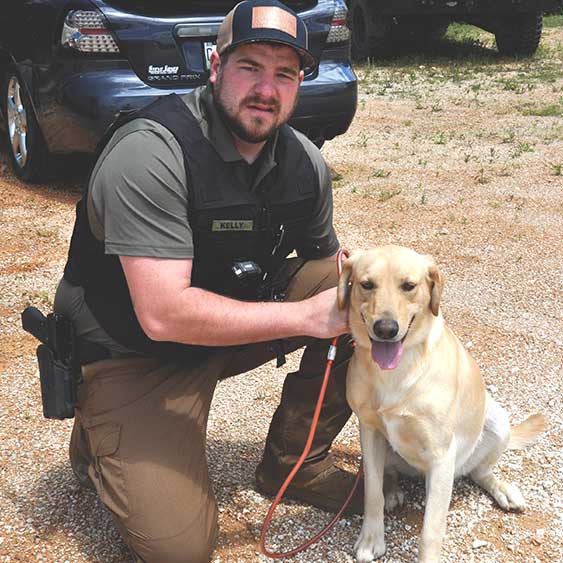 Officer Jonathan Kelly is a specialized law enforcement officer that works closely with Orion, the PCSO drug dog. Orion has proven to be the most valuable tool against drugs in Perry County. He is not trained as an attack dog, but strictly to sniff out drugs, even from the most impossible places you can imagine. How, you ask. Certain breeds, including labs, have a very long snout which means they have a more sensory turbinate than some other breeds. And the proof is in the pudding, as they say, since he has an outstanding record in the short time he has been here.
He is used to conduct building searches, area searches and any other type activities that can utilize their special abilities. Orion has had the training to conduct narcotics searches for the above units as well. A narcotics detector dog is responsible for assisting with narcotics search warrants in hundreds of search warrants each year. In fact, in just the first five months of 2021, Orion has assisted in 68 misdemeanors and 19 felonies.
In addition to the above duties our narcotics detector dog is used to aggressively search out current narcotics storage and transportation trends and then to locate the hidden drugs using his highly developed sense of smell and skills. Mini-Storage, airports, interstate interdiction, Hotel/Motel parking lots, and parcel package delivery services are but a few of the areas targeted successfully by the very aggressive canine team of Officer Kelly and Orion.
Orion, a beautiful Golden Labrador Retriever, lives with Jonathan and his wife, who are expecting their first child this year. A Labrador is a wonderful family dog choice. and make a great working dog. He goes where the family goes. Labs are an extremely friendly, family oriented breed, who may have had specialized training. They are a dog first who bond with their trainer and family.
Perry County has been very successful with their drug arrests, mainly due to Orion. Be sure to read about the drug arrests in just this year alone and how they are increasing.
Orion is available for demonstrations for scout troops, school functions and other community gatherings, but not something like a birthday party. When you see Orion, ask his handler, Officer Kelly, first if it's okay to pet him. And it will be fine to do so, if he is not working. Call the Perry County Sheriff's Office